Montreal, QC (PRWEB) March 19, 2014
Recently reported by the National Mortgage News, the Federal Housing Administration (FHA) and the Internal Revenue Service (IRS) are currently developing e-signature policies that allow mortgage lenders and borrowers to electronically sign a variety of mortgage documents. To help the mortgage industry get ready for the new e-signing processes, Silanis has set up a free offering of its electronic signature service, e-SignLive.
The possibility of FHA allowing the use of e-signatures for FHA loans and the IRS accepting e-signatures on the 4506-T form represents a huge change for the industry, said Robert Al-Jaar, executive vice president of Silanis Online e-Signature Services. Using an e-signature solution such as e-SignLive will take a fraction of the time to complete mortgages, processing costs will be slashed and the borrower experience will improve dramatically. Based on our e-SignLive clients, we know these benefits lead to higher loan volume and increased company revenue.
By signing up for Silanis FREE pilot of its cloud-based electronic signature service, e-SignLive, mortgage bankers and lenders can experience first-hand the immediate benefits of using e-signatures to streamline the mortgage process and accelerate closing times.
Currently, lenders using e-SignLive can electronically and securely sign all documents, forms, and disclosures in the mortgage loan application package with the exception of one form: IRS Form 4506-T, the Request for Transcript of Tax Return. Today, the full scale of benefits that could be derived from using e-signatures is not totally realized. Once the new IRS e-signature policy is in place, the mortgage industry and its customers will be able to e-sign the entire loan package from application to closing including the 4506-T form.
While the IRSs pilot project allows for a completely e-signed mortgage process, if borrowers opt for an FHA loan, they are still saddled with the challenges of wet-signing all the documents. Currently, the FHA does not permit e-signatures on any of its mortgage loan documents.
Once both the IRS and FHA have adopted new e-signature policies, the benefits to the mortgage industry will be significant. Lenders will enjoy less paperwork, fewer errors, and less potential for fraud by combining e-signatures with secure e-authentication. Mortgage processing times will also improve, resulting in valuable cost savings that can be passed on to the borrower. Ultimately, the adoption of electronic signatures will mean a more efficient mortgage industry and superior customer service experiences for borrowers.
Because e-SignLive is a cloud-based service, borrowers can sign from anywhere. This means they wont need to hustle to find a babysitter, or spend hours in traffic trying to get downtown to sign their mortgage documents. Borrowers are no longer stressed, says Al-Jaar. For the lenders, expensive overnight courier deliveries will be part of the past. As importantly, small and mid-market mortgage bankers and lenders will be able to optimize their warehouse lines of credit, replenishing them faster by doing more business each month without increasing their warehouse lines.
Interested companies can sign up for the free pilot by contacting an e-SignLive e-Signature Specialist at 1-855-MYESIGN (1-855-693-7446) or online at e-SignLive.com/IRSFHA.
About e-SignLive

e-SignLive is the premier legal, trusted, and secure online electronic signature service targeted primarily at the mid-market, small businesses and government organizations that are regulated and compliance-driven. Choose e-SignLive when legal evidence, trust, security, and auditability matter. Powered by Silanis, e-SignLive uses the same e-signature technology trusted by over 1.6 million US Army personnel globally, and by the world's largest banks, insurance companies, and government agencies. e-SignLive is now available online, anytime, anywhere, and at a friendly price. e-SignLive, when signatures matter to your business.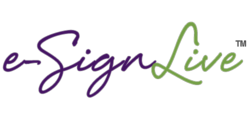 how to get a tax return transcript from www.irs.gov im not sure how to do it if you please can help with all steps ill be very thankful!

Answer by tro
go to www.irs.gov and find form 4506 T, you may be able to submit it electronically, or down load a copy and submit manually or go into an IRS office and request it
(PRWEB) February 16, 2014
Ideal Tax Solution, a tax resolution company, has released news that they have developed new ways to Go Green. The first step in working with a tax resolution company is for them to call the Practitioners Hotline or PHL. This process allows the company to order transcripts on behalf of the client. There are different types of transcripts needed, in each particular case. There are Wage and Income transcripts, which are ordered by a yearly basis (each year wanted needs to be specified.) These transcripts show all the income that was reported whether by W2s or 1099s, etc to the IRS. These are used mostly for assistance in filing tax returns. The other, and most popular transcripts ordered are called Account Transcripts. These provide the most current and accurate liability amounts. They give a grand total, before and after penalties and interest were applied, as well as a breakdown of each year, and the balance owed. These transcripts also provide information on whether there has been a lien filed, whether there is a garnishment or levy in place, if the taxpayer is in an Installment Agreement and if applicable, how much they pay each month. This helps tax resolution companies decipher if there are unfiled years, if any years have Substitute for Returns, what is in collections, and the dates they need to be paid off by.
With these transcripts being a huge part of settled tax debt and a necessity in getting accurate information, Ideal Tax Solution is proud to announce a new system. In the past, ordering all these transcripts was done over the phone and the documents were then faxed to the company. Hundreds upon hundreds of papers were being used daily, in order to get these necessary documents. Now, Ideal Tax Solution is becoming apart of a new program available for PHL in which the transcripts can be requested online, and sent electronically, then being uploaded into each clients electronic file. This is a huge breakthrough for tax resolution as it is saving time and resources plentifully. With hopes in expanding their Green status, this news is very exciting for Ideal Tax Solution and their clientele, including future persons who work with the company.
About the company: Ideal Tax Solution, LLC is located in Costa Mesa, CA and provides tax negotiation services, preparation and is a collection defense specialist. Their Tax Attorneys, IRS Enrolled Agents, CPAs, Senior Tax Consultants have over 55 years of combined experience working to help American tax payers with the IRS and State Tax Agencies. Ideal Tax boasts an "A" rating with the Better Business Bureau earned through providing excellent services.
###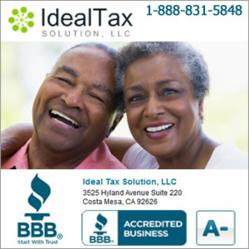 Recommended: